FREQUENTLY ASKED QUESTIONS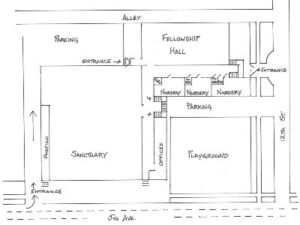 Frequently Asked Questions
COVID-19 MASK POLICY
Face coverings are optional for those that have been fully vaccinated. They are encouraged for the unvaccinated. 
WHERE DO I PARK?
We have two parking lots: one is located off 5th Avenue on the west side of the church and the other on the east side, just off 12th street. The 12th Street parking lot is designated handicap parking only on Sunday Mornings.
WHERE DO I ENTER?
Using the map depending on where you park, you can choose the door closest to you for entrance. 
Handicap entrance: The 12th Street entrance is handicap accessible. This entrance leads to the elevator and a handicap restroom. The elevator provides access to the Sunday School rooms and Sanctuary. 
WHERE DO YOUNG CHILDREN GO DURING THE SERVICE?
Children of all ages are welcome in both of our services. We have staffed nurseries for infants and children through age 5 at both services. The nurseries are located on the first floor of the education building across from the Fellowship Hall. We have and electronic paging system in place so parents can be contacted during the service should the need arise. 
WHAT SHOULD I WEAR?
You are invited to come dressed in a way that is comfortable for you.